Your new Factory Assistant:
unibeam speaks SME. Fluently.
There's a lot of IIoT platforms out there. Still, none of them offers what SMEs really need: a Factory Assistant that eases their way into digital transformation, even with very heterogeneous data. Autonomous, adjustable and with a very clear goal: to use the full potential of your data material Because communication happens everywhere. Between machines, systems and processes. And this is where unibeam does its magic: connecting and analysing data, creating the big picture and equipping you with all the necessary information to make the best possible decisions. And much more.
unibeam is simple. unibeam is agile. unibeam is data intelligence.
unibeam is SME.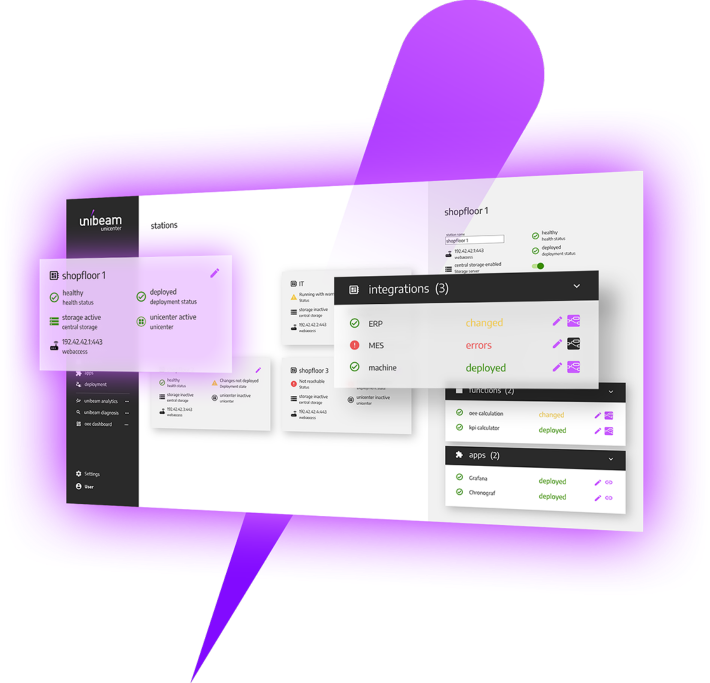 It's not rocket science
Data-focused communication gets a lot easier with unibeam. Usually, most of your data speaks different languages, be it due to complex technologies, different providers or various protocols. unibeam connects all the data and translates it into the same language – simple and clever.
As agile as it gets
unibeam is extremely adjustable. Your way into digital transformation requires flexible and simple solutions. Whether it's new functions and systems, additional customer requirements or different machinery generations – unibeam deals with it all and provides you guaranteed autonomy from providers.
The big picture
unibeam helps you see the pig picture by analysing your data and visualising all necessary KPIs in one dashboard. Or use unibeam to create the exact evaluation you need with your raw data. Either way, unibeam's holistic way of using data intelligence will provide you with a better understanding of all your processes and figures.
Help SMEs get a head start: digital transformation done the easy way. Don't lose a lot of time and nerve with incompatible systems: unibeam helps you focus on the important things.
Find your own way towards digital transformation and don't be bothered by complex technologies, incompatible software and fragmented information. Because it's not enough to merely connect your systems – why not create a thoroughly digitalised process flow that caters to both your production and your ERP. Use the full potential of data intelligence regardless of your scale – with unibeam.
Become a unibeam user now!
Our product is brand new! This is why you get the chance to help us make it even better – as one of our unibeam users. We beam you onto the next level of your digital transformation. You will even get a whole year of full service for free if you are one of our first three users.
Ready to become a unibeam user? Do the test!
unibeam is team work – and a cooperation of two equally experienced and agile Karlsruhe based software companies. With our joint forces we created a networking solution that specifically helps SMEs use the full potential of digital transformation.

We at AUNOVIS already have started to shape the world of industrial automation back in 1999. Today we are one of the most creative and innovative software hubs in the field of digitalisation and automation. Our developers create customised IIoT solutions for the digitalisation of services (Smart Services) or products (Smart Products).
Core competences:
SCADA, HMI and Smart Factory
Special purpose machinery, robotics and laser control
Edge & Cloud Computing, Mixed Reality & AI for industrial applications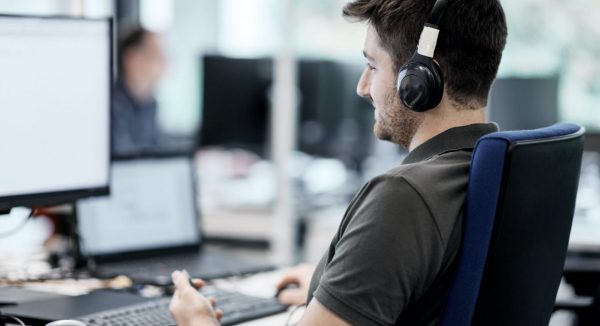 Codewerk was founded in 2014 as a software service provider and supplier focusing on processing and manufacturing industries as well as rail transport technologies. Our dynamic teams have both profound industry experience and extensive know-how in edge and IIot application development. At three locations (Karlsruhe, Berlin, Murnau) they develop applications and microservices for plant operators, system integrators and component manufacturers.
Core competences:
Asset management
Mobility solutions
Process control systems (DCS)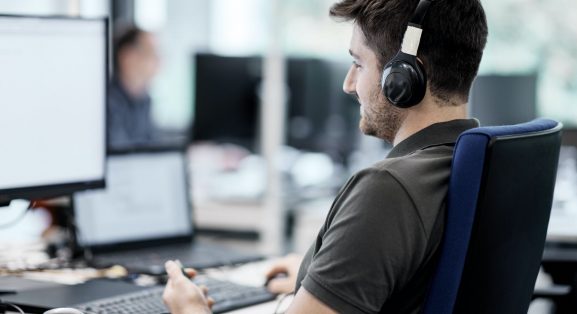 These are our trusting customers:
Either by e-mail, phone or via our contact form – we'd love to hear from you!